Isolated Holiday
Covid-19, which has recently affected our country and the world, has quickly changed our habits. It's time to set our new normals in this changing world. So what do we do with our holiday habits?
With the weather getting warmer, many of us dreamed of a holiday in the past years. Some of us would turn to hotels, and some would go to the summer residences. Will your holiday habits in this new world be the same as before or will you turn to more isolated and safe vacation alternatives?
Isolated holiday is when you are in contact with a minimum of people outside your family. Camping, caravan or boat vacations are the most suitable holiday types that can provide you this opportunity. The advantage of the boat holiday compared to others is that you can be isolated and safe only with your family in virgin bays where there is less land transportation.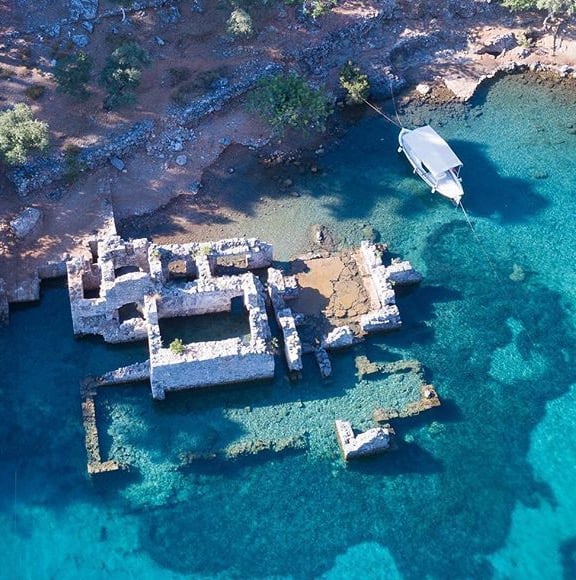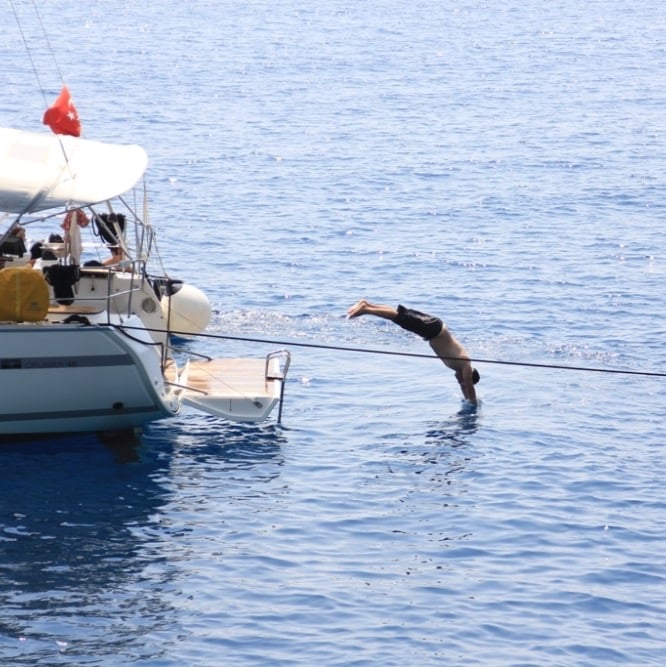 How do we achieve this?
If you wish, you can send us a shopping list beforehand and we place everything on the boat before you arrive.
We offer the possibility of online check-in where we automatically provide the  captain with a boat information form and short visuals describing how the boat's equipment works. Apart from these, if you need additional information, our teammates, making sure to keep the social distance, will help you.
After your boat leaves the port, you will only enjoy the desolation of the bays.
Disinfection and Cleaning
U.L.V Technique
U.L.V. - Ultra Low Volume - is the formation of aerosol fog in the environment by spraying pulverized disinfectant liquid into the air. The particles sprayed into the air range from 9 to 49 microns in size. Thanks to these particles, a quick and quite long intervention is made. The main reason for its long-term effect is that the micron-sized particles are much longer suspended in the air than the particles produced as a result of normal spraying.
U.L.V is a disinfection method approved by the World Health Organization and is also environmentally friendly. Since the system operates as pulverized, it is very effective compared to normal disinfection methods. In other words, maximum cleaning is achieved with minimum medication.
Disinfectant
It is important for our health that the air we breathe is free from bacteria and viruses. The solution we use as a disinfectant is a new generation anti-microbial that provides a high level of disinfection. When applied to the environment, it disinfects the air against all pests. It prevents the transmission of diseases. It destroys harmful microorganisms such as drums, viruses, fungi, spores, molds and algae. Since disinfectant is produced from salt and water, it is ecological and natural and does not contain any phenol, aldehyde, alcohol, ammonium and perfume and it does not cause any harm to health. At the same time, this solution has been approved by independent laboratories and universities' microbiology departments accredited by the Ministry of Health.
The disinfectant product used has a much faster and wider effect among biocidal products. The main reason for this is the high redox (1200 mV) value.
So what is redox? The word redox is derived from the shortening of the words reduction and oxidation in English and is used to denote chemical reactions with electron exchange. Thanks to this electron exchange, it destroys microorganisms not only chemically, but also with the help of electrical current, which is not harmful to us but can affect microorganisms, and its interaction time is very short.
Due to the meta-stability of its active ingredients, no microorganism can resist or develop resistance over a long or long term.
Cleaning
Aside from the routine cleaning operations between the guests, the boats are disinfected with pulverized disinfectant fluids using U.L.V devices.
The kitchen equipment, besides being cleaned in a dishwasher at high temperature, it is also disinfected with a liquid disinfectant produced from salt and water.
Similarly, metal, polyester, wood, fabric surfaces in the cabin, toilets and common areas of the boat are cleaned to the finest detail by our cleaning personnel wearing personal protective equipment (visor, mask and protective overalls) and then disinfected with pulverized disinfectant liquid.
Laundry
The bed linen and towels that come out after our guests leave the boat are washed in industrial machines at 80 degrees for 2 hours and 15 minutes and dried at 110 degrees for 50 minutes. Then, after being ironed with industrial high steam irons, they disinfected and packed with plastic packages that will be opened for the first time before every client. They are placed by our cleaning staff wearing personal protective equipment (visor, mask and protective overalls) and then disinfected with U.L.V technique and ready for our new guests.
Office
Although our teammates are very knowledgeable and sensitive about the subject, regular training is given to refresh the knowledge and habits of Covid-19's spreading methods and preventive measures.
Our teammates come to their jobs with their private vehicles and those who have to use public transportation are driven by our company service with minimum contact with the external environment. Apart from this, their temperature is checked with the thermometer every morning before starting work.     
In the Office we placed a fixed disinfection machine that pulverizes solution produced from raw materials that are not harmful to human health.
Our number of employees working at the same time in the office is minimum and they are sitting at a maximum distance from each other (more than social distance). Our teammates use the visor, the mask and disposable gloves when necessary.